A new IC module lets LEDs operate flicker-free directly from 230 VAC line voltage, at power levels from 2 W to 70 W.
The German company Eurolighting has launched the IC EL01 module which, with the addition of a few components, allows direct operation at 230 V -- with no flickering visible to the human eye. LEDs from various manufacturers can be employed.
The IC EL01 solves the filcker problem (see below), and operates more efficiently than switched power suplies, enabling reduced production costs. The IC EL01 rectifies the 230 VAC mains voltage and feeds it to an AC direct driver without the need for smoothing (see Figure 1). Since no capacitors or inductors are required, except for interference suppression, the circuit board is much smaller than conventional solutions, and cheaper to make.
The old way
Traditional LED power supply units consist of electrolytic capacitors, resistors, filters, inductors, rectifiers, and other components all fitted to a large circuit board. The driver alone consumes 10% to 20% of a power supply's capacity and takes up plenty of space. And it is still likely to disturb radio and television reception. Moreover, electrolytic capacitors have a limited service life since the electrolyte dries out over time due to the circuitry's high ambient temperature. Although some manufacturers offer high-temperature electrolytic capacitors for up to 110°C, most LED lamps don't use such high-temperature components and only have a short lifetime.
The principal problem with AC-powered LEDs has been noticeable flicker. Manufacturers have tried to overcome this by doubling the standard frequency of 50 or 60 Hz to over 100 Hz. As of a certain frequency, flicker is no longer perceptible to the human eye due to its inertia -- rather like what happens when watching a film. And this enables LEDs rated for voltages between 2 and 70 V to be directly controlled. The results are satisfactory, and the few additional components needed (see Figure 2 for example) are mounted on the circuit board next to the LED chips and can be directly powered by 230 VAC. This technology is known as driverless -- and has been the subject of intense discussion here in recent months.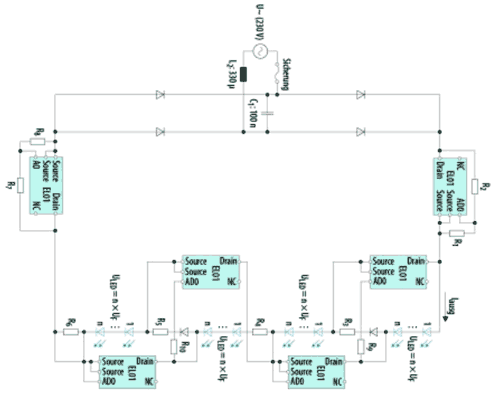 Driverless LEDs
While some believe that driverless LEDs aren't the best way forward, others have advanced this concept and brought various solutions to market. They include Seoul Semiconductor with the Acriche module and Citizen's CL-L 163 module.
Eurolighting's chip is also powered by 230 V. It raises the frequency to 100 Hz and provides LEDs with a voltage of about 70 VDC. The advantage of this chip is that it can power several LEDs made by different manufacturers, and it's suitable for operating voltages ranging from 2.2 to 70 VDC. This means that the DC LED chips currently used -- for example from Bridgelux, Citizen, Cree, Nichia, or Seoul Semiconductor -- can still be employed, while running directly on 230 V without flickering.
The IC EL01 (data sheet here) includes temperature regulation that turns down the power in overheating conditions. It provides a power factor of 98% and total harmonic distortion below 18%.
The results have been praised by at least one writer in the German trade press as "verblüffend"! (Google translation here.) The IC EL01 produces a light with LEDs which is even and flicker-free to the human eye.
The first flicker-free light sources up to 80 W have already been made, and the entire circuitry produces surprisingly little heat in finished products such as LED tubes, panel lights, retrofit lamps, and high-bay lamps.
The power supply's long service life (50,000 hours), cost and space savings, and the fact that LEDs from any manufacturer can be used, create new possibilities for the design of new products. And this technology paves the way for new designs for planar and extremely compact lighting. Capacities over 100 W and a luminous flux exceeding 10,000 lm are possible. This really seems to be a breakthrough in the driverless control of LEDs. What do you think?
Related posts