As we start the week, I thought I'd lighten things up a bit (no pun intended) with something fun before slogging back into a week of pondering the finer points of SSL lighting standards and thermal issues.
I was all set to make a post about the wonderful photonic poems being broadcast from the LED lighting system on San Francisco's Golden Gate Bridge, but that got put on the back burner when Arduino announced the availability of its new GSM transceiver shield ("shield" is Arduino-ese for mezzanine card) for its tiny, versatile open-source microcontroller boards. At €69 each (US$90) the cards are not the sort of thing you'd want to stick on every light bulb, but they definitely open up some interesting possibilities for applications such as managing clusters of smart outdoor lighting products.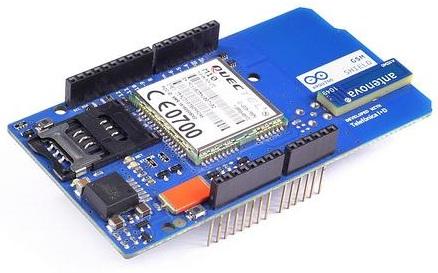 The Arduino GSM Shield, developed in conjunction with Telefónica's Physical Internet Laboratory, adds a GPRS/GSM connection to the Arduino motherboard, meaning that it can be controlled through the Internet anywhere there is mobile phone coverage. There are several other GSM shields available from other vendors, but the Telefónica group seems to have done an exceptionally good job of creating a set of libraries to take care of all the complicated operations needed to connect to the Internet and make and receive phone calls and text messages.
In addition, every unit comes with a ready-to-run Telefónica SIM card, which gives the user access to a very inexpensive tariffing scheme for worldwide data communication. The card requires a very simple activation process through the BlueVia website where users can log in with their Arduino accounts and be online in minutes.
Watch the video below to get a quick tutorial on activating and using the board.
One of the first LED-oriented applications I can imagine for the modem is a cluster of SSL roadway or streetscape lamps that can be controlled and monitored by a single GSM-equipped Arduino board. Equipping the lights with this low-cost two-way data/control link would make it easy to configure the lighting system for a park, campus, or segment of highway as well as manage its energy consumption and monitor the health of each luminaire to detect problems before they become failures. I'm sure there are lots of other SSL applications where a low-cost wireless controller would be welcomed, including the lights on large public structures such as the Golden Gate Bridge project I mentioned earlier.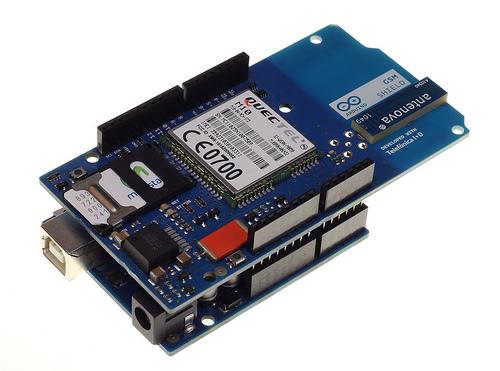 To visit the Arduino store, click here. For those of you unfamiliar with Arduino, it's a family of low-cost microcontroller boards and plug-in I/O shields whose entire design and associated software libraries are fully open-source. This allows anyone who's making a prototype, one-off project or low-volume production run to buy the boards from Arduino or several other manufacturers and then produce their own (or modified versions) when the economics make sense.